Advanced Coin-Op now more than The Pinball Spot GTA, and Game Doctor Toronto!
Now through Advanced Coin-Op you can purchase New Pinball Machines. Purchasing through Advanced Coin-Op, we professionally deliver, install, and inspect every new Pinball Machine we sell and offer a 3 month in-home manufacture defect warranty. Check out our prices below. Click the links for game details.
NEW PINBALL MACHINES
***THIS WEEK ONLY TAKE $200 OFF THESE MODELS EXCLUDEING JAMES BOND LIMITED EDITION***
Stern James Bond Pro Model: $9640 + Tax
Stern James Bond Premium Model: $12,740 + Tax
Stern James Bond Limited Edition Model # 142: $17995 + Tax
Stern Mandalorian Pro Model $9640 + Tax
Stern Mandalorian Premium Model $12,740 + Tax
Stern Elvira House of Horrors Premium $14,940 + Tax
Jersey Jack Guns N' Roses Limited Edition $15,740 + Tax
Jersey Jack Toy Story 4 Limited Edition $15,740 + Tax
Jersey Jack Toy Story 4 Collector Edition $20,940 + Tax
Prices are in Canadian Dollars. $300 for Delivery and Setup
Classic Arcade Table Top Game With 60 Games And Track Balls.
$2495 Includes Tax And Delivery and Setup in the GTA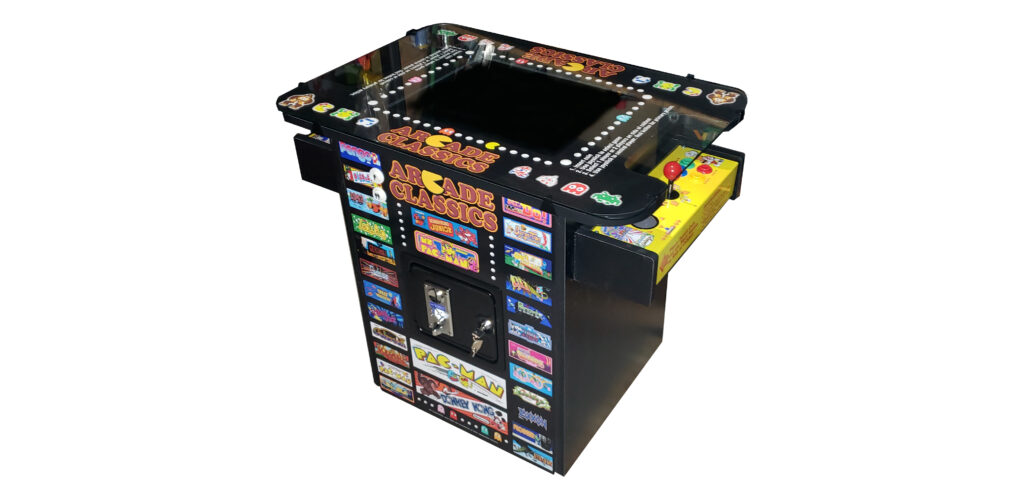 When it comes to purchasing a 60-in-1 classic arcade cocktail table, there are several compelling reasons to consider. Let's delve into some of the key points that make this a worthwhile investment.
Versatility: The 60-in-1 classic arcade cocktail table offers an extensive collection of 60 classic vertical arcade games, providing a diverse range of options to suit different preferences and moods. From timeless classics like Pac-Man and Donkey Kong to popular titles like 1942 and Galaga, this versatile machine appeals to a wide audience.
Authentic Experience: This arcade cocktail table is designed to recreate the nostalgic ambiance of old-school arcades. With its sturdy build, trackballs, comfortable seating, and classic artwork, it brings back the immersive experience of playing games in an arcade, making it perfect for dedicated gamers and enthusiasts alike.
Space-saving Design: Unlike traditional stand-up arcade machines, the arcade cocktail table offers a space-saving solution without compromising on gameplay. Its compact design allows it to be placed in various settings, such as game rooms, living rooms, or even office spaces, making it a convenient addition to any environment.
Multiplayer Fun: The cocktail table is equipped with dual control panels and comfortable seating on either side, allowing for multiplayer gaming sessions. Compete with friends or family members and create lasting memories with exciting head-to-head high-score battles.
Easy to Use: The arcade cocktail table is straightforward to operate coin-operated or free play, making it accessible to users of all ages. Its intuitive interface and straightforward controls ensure that everyone can enjoy the games without any unnecessary complications or technical difficulties.
Durability and Longevity: Crafted with high-quality materials and built to last, this arcade cocktail table is designed for durability and longevity. Rest assured that your investment will provide countless hours of gaming enjoyment for years to come.
Aesthetically Pleasing: The classic design of the cocktail table, with its retro artwork and vibrant display, adds a touch of nostalgia and charm to any space. Whether it's a dedicated game room or a trendy living area, this arcade table seamlessly blends in with its surroundings while becoming a centerpiece of conversation.
In conclusion, the 60-in-1 classic arcade cocktail table offers a combination of versatility, authenticity, and enjoyment that makes it a worthy purchase. Its extensive game selection, multiplayer capabilities, space-saving design, and durability make it an excellent choice for gamers and enthusiasts seeking an immersive arcade experience
FABI SOCCER/FOOSBALL TABLES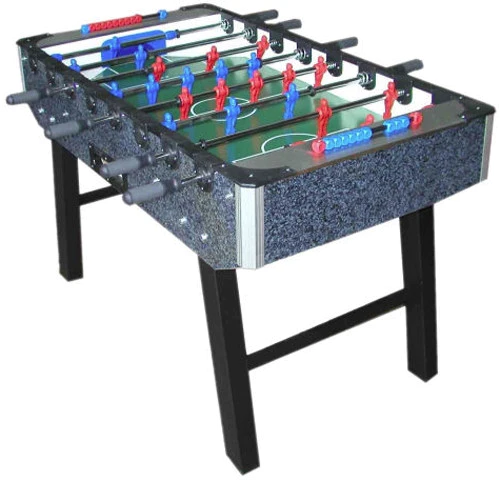 $1470.00 Includes Tax and Delivery in GTA For Home Edition
$2250.00 Includes Tax and Delivery in GTA For Coin-Op Edition
FABI Soccer/Foosball Tables are considered by many to be the best table for available today. With its great playability, durability and price, makes it a Winner for any games room. Manufactured in Torino Italy, it's a perfect present for kids and adults alike.
Copyright 2023 Advanced Coin-Op / www.advancedcoinop.com / 647-741-7529
ADVANCED COIN-OP
Average rating:
0 reviews